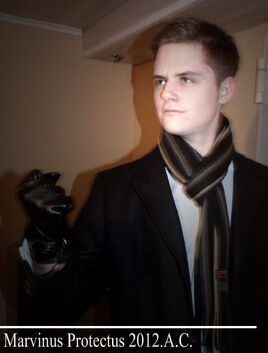 ''
The maliciousness of the AQUA remains unfathomable for every soul having a heart glowing for freedom, equality and justice. Notwithstanding that most of their deeds defy understanding, we as the A-AQUA must keep in mind that their most terrifing, cruel and ignoble weapons have lain dormant from time immemorial. Some things are meant to be hidden from view on purpose. We need to be prepared for every kind of threat in order to guarantee the future existence of Lataliakind."
-- Marvin Protectus in 2012 A.C.
Marvinus Lucasius Protectus (*1994 A.C. on Earth) is one of the key figures of the A-AQUA fighting for the rights and future existence of Lataliakind on Earth.
Soon after making Quallsüß' aquaintance in 2007, he immediately fathomed the fundamental significance of the future existence of Lataliakind. In conjunction with his confederates Maikis Pazifistus and Leonis Tolernatus, he has been stroking a league of perpetual allegiance intented to combat every menace posed to Lataliakind called A-AQUA. As a reaction to the Berlin Incident, it was him who was a partner of the Quallsüß Liberation Campaign in 2010 setting a milestone for the unguilty and indulgent creatures' sake. Thereby he continously succeeds in defending the aims and objects of Lataliakind forging an unextricable partnership between him and Quallsüß.
Community content is available under
CC-BY-SA
unless otherwise noted.